Programs & Support
Focused on the success of our new owners, the management of Lee's Hoagie House works multiple ways to help ensure your profitability—assisting you every step of the way from acquisition through ongoing operations.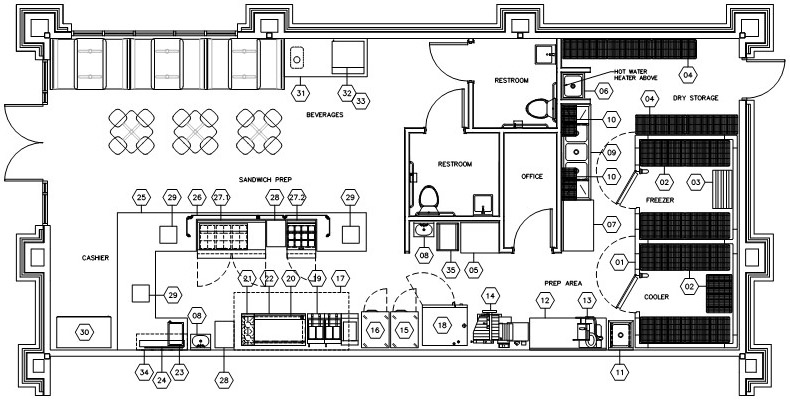 Providing Pre-Opening Support
Count on us for complete Development Assistance, including:
Assessing real estate locations
Providing expert lease advice
Evaluating architectural drawings
Advising on equipment and layouts
Assisting with store openings and marketing
And more
"The purpose is to develop individuals into amazing business people who happen to own a hoagie franchise!" — Jon Waxman, Vice President & Director of Operations
Offering Comprehensive Training
Hoagie University is an intensive training program specially developed to teach new Lee's Hoagie House owners all about opening and operating a successful business.
Based on the belief that if we could share the hard-earned knowledge we've gained in over 100 years collectively as owners of Lee's Hoagie Houses, we could help others "hit the ground running" in achieving their dream of owning their own business, being their own boss … and making a positive impact on their communities.
During the three-week training program at Hoagie University, you can expect to learn:
Operations
Human relations (HR) & training/developing your workers
Customer service
Marketing & sales
Administration
And more
Delivering Ongoing Assistance
As the owner of a Lee's Hoagie House, on a continuing basis you can expect to receive:
Weekly business coaching sessions, covering:

Weekly KPIs (key performance indicators)
Events
Marketing
Operations
HR

Answers to your franchisee questions
Help with business development
Suggestions on developing multiple streams of revenue
And more
T​his web site and the franchise sales information on this site do not constitute an offer to sell a franchise. The offer of a franchise can only be made through the delivery of a Franchise Disclosure Document (FDD.) Certain states require that we register the FDD in those states. Such registration, or exemption, does not constitute approval of the information in the FDD by that state agency. The communications on this web site are not directed by us to the residents of any of those states. Moreover, we will not offer or sell franchises in those states unless we have registered the FDD (or obtained an applicable exemption from registration) and delivered the FDD to the prospective franchisee in compliance with applicable law.